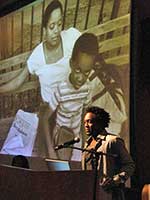 Deborah Willis
is Chair of the Department of Photography and Imaging at New York University, Tisch School of the Arts. She was a 2005 Guggenheim Fellow and Fletcher Fellow, a 2000 MacArthur Fellow, and in 1996, a recipient of the Anonymous Was a Woman Foundation Award. She has pursued a dual professional career as a fine art photographer and historian. Her books include
Reflections in Black: A History of Black Photographers – 1840 to the Present
;
Visual Journal: Photography in Harlem and DC in the Thirties and Forties
; and
Picturing Us: African American Identity in Photography
. Her latest book,
Posing Beauty
will be published by W.W. Norton in 2009.
—Hank Willis Thomas speaking about a photo of
Deborah and himself taken when he was five.
Photo by Harlee Little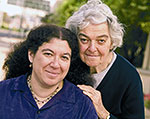 Perri Klass
is a pediatrician and the author of many books of fiction and non-fiction, including most recently
Treatment Kind and Fair: Letters to a Young Doctor
, and
The Mercy Rule
, a novel. Her other books include
Quirky Kids: Understanding and Helping Your Child Who Doesn't Fit In
, with Eileen Costello, MD. Dr. Klass is Professor of Journalism and Pediatrics at New York University, and the medical director of the Reach Out and Read program, dedicated to promoting early literacy as a part of pediatric primary care. She and her mother, Sheila Solomon Klass, are the co-authors of
Every Mother is a Daughter: The Neverending Quest for Success, Inner Peace, and a Really Clean Kitchen
.
Sheila Solomon Klass is the author of seventeen novels including In a Cold Open Field, and the memoir, Everyone in This House Makes Babies. She writes nonfiction as well as both adult and young adult fiction. Most recently, she collaborated with her daughter Perri on Every Mother is a Daughter. Her recent young adult novel, Soldier's Secret: The Story of Deborah Sampson was published by Henry Holt Publishers. Now 81, she continues working as an English professor at Borough of Manhattan Community College, The City University of New York.
—Perri Klass & Shelia Solomon Klass


Elaine O'Neil's photographic documents concerning the mother daughter relationship have received awards from the National Endowment for the Arts, the New York Foundation For The Arts and the Massachusetts Council for the Arts. Her work has been exhibited in numerous exhibitions and is included in a number of museum collections including those of George Eastman House, Museum of Fine Arts – Boston, MA, New Orleans Museum of Art, Philadelphia Museum of Art, Museum of Fine Arts – Houston, Princeton University, and the Corcoran Gallery of Art. Elaine is a noted educator currently teaching in the graduate and undergraduate Fine Art Photography Department at the Rochester Institute of Technology in Rochester, NY.
Julia Hess is a Materials Scientist and Engineer currently working in Philadelphia, PA. She earned her Bachelors degree from Carnegie Mellon University and her Masters degree at the University of Florida. Prior to her current position she worked on projects related to the NASA Space Shuttle program at the Kennedy Space Center in Cape Canaveral, FL. She now balances her work in the sciences through classes at the University of the Arts and in dance.