by Elaine O'Neil
In preparation for the phase of life my ten year old daughter, Julia was about to enter, I began to read about the experience of adolescent girls in our culture. In the work of Carol Gilligan and other researchers at Wellesley College's Stone Center, I found the clearest description of the compelling, unmentioned issues of adolescence—loss of voice, loss of identity and loss of connection.
My counter to culture's effect on Julia's self-esteem was to create a project which would allow Julia to present herself as truthfully as she wished, while fostering our sense of connection. I suggested, and Julia agreed that for one year we would meet for a few minutes every day in front of the honoring presence of the camera to make a portrait of ourselves. One end of the living room was converted into our studio, with the windows overlooking the backyard garden serving as our the backdrop. The windows were chosen for their graphic pattern, and a middle sash which would serve as a gauge of Julia's growth. More important was the reference to a specific landscape allowing nature to serve as a metaphor for the impending change in our relationship and in my definition of mother.
Ultimately we met in front of that window for five years, until Julia decided that her 16th birthday was the day upon which the project would end. We rarely discussed how we would pose, choosing to remain independent by relating to the camera. The result is 1,800 photographs in which as Susan Stoops, then curator at the Rose Museum at Brandeis stated, "Julia participated fully, demanding her space and the maintenance of autonomy in order to present herself as she wished." What is also revealed is my need to reassert my autonomy and to reclaim an identity outside of the persona of mother.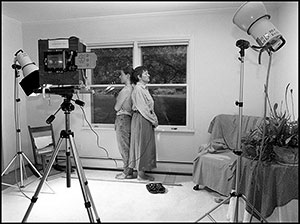 Julia Hess and Elaine O'Neil in their home studio. 1998